Black Swan Visionary Art Studio
The Black Swan Visionary Art Studio is the studio of Steven E. Counsell.
Steve Counsell is a narrative visionary artist and poet.  He believes art must alter perceptions through myth, symbol, and archetype.  With a Renaissance, even Flemish technique, in each of Mr. Counsell's art works, he thinks that a high level of technical skill is the very bedrock each observer deserves.  Steven says, "It's far more interesting to be technically traditional and put your daring in the ideas or the depth of your feelings, or in the boundlessness of metaphor itself.  Art must be transformational or it is merely interior decoration."
Steve feels the same about poetry.  The classic definition of poetry really cannot be bettered; music, compression and meaning.  The balance of these determine the caliber of the poetics.  Steve's training in landscape photography and environmentalism honed the eye to seek intense visual phenomena, to image and condense.  There really isn't a significant difference between music, poetry and art.To enhance one's sense of aliveness, change breath and deepen life.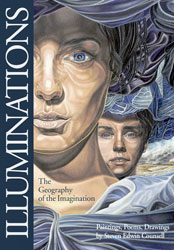 Steve owned and operated the AMNIOTE GALLERY in Anchorage Alaska where he displayed his art and other Alaskan artists.  Through this contemporary gallery he also sponsored "Thursday's Circle" poetry readings and assisted with publication of several books by the same title.  While in Alaska he worked as graphic artist for the Calista Native American Corporation and enjoyed doing landscape photography work.  In 1988 he moved the gallery to Santa Fe NM.  Currently Steve reads his poetry at different events in Santa Fe and sells art through his studio at his Black Swan Art Studio website.
In 2012 Steve published his first visionary art book titled ILLUMINATIONS The Geography of the Imagination with Black Swan Editions of Santa Fe.  This award winning art book is available for purchase through PayPal at the link below.