Art Book: ILLUMINATIONS, The Geography of the Imagination, by Steven Edwin Counsell
$50.00
This book is a jewel box of visual exploration with myth and wonder mirrored to poetic text.
What People Say:
"With Steven Counsell's work doors are open into the living imagination and invite us to walk through with him into its autonomous creative expressive landscape.  And as we do the living question arises – what land have we entered?"  from the book's INTRODUCTION by Monica Wikman, Ph.D. Tesuque, NM.  Jungian Analyst & Author of Pregnant Darkness:  Alchemy and the Rebirth of Consciousness
"It is exquisite.  I love the poetry and images are wonderful…the material is so full of archetype, symbolism, so many references to the collective unconscious.  I enjoyed the poetry about aging, letting go."  Sondra Geller, Jungian Analyst,  Chevy Chase MD
AWARD WINNING VISIONARY ART BOOK
DOUBLE WINNER, 2012 New Mexico – Arizona Book Awards

Best ART BOOK, and
Best BOOK COVER DESIGN.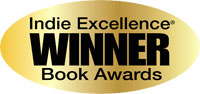 WINNER OF 2013 National Indie Excellence Awards (NIEIA)     Best Fine ART BOOK
Read More